06 Jan

…letter from berlin_WGSN LONDON

wgsn
since 2004

trend infos and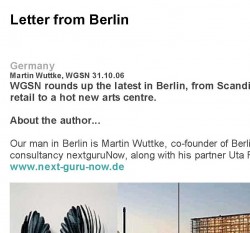 trend informations and updates from berlin. monthly updates  and insight_what new in: lifestyle, music, restaurants, night life, art, stores, designers and fashion hot spots.
client voices:
– its been a real pleasure to work with you over the years, your cheerfulness and enthusiasm is infectious!
lindsey dupler_wgsn
– this looks great! we will definitely put into art pulse and probably an exhibition review bitesize.
jo_wgsn
– hi there martin and very interesting info on retail  berlin this month.
i love the geometry store. I'd like to include it in the monthly round up of new stores, looks very cool.
amanda carr_store design and visual merchandising editor_wgsn