…the LR magazine with the fashion forecast themes BVLK by nextguruNow. is out….for all of you who missed the conference…..you can buy the mag here: LR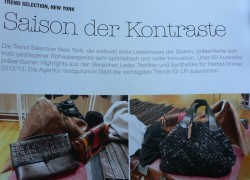 in the LR issue you find also the report about the highlights of the leather fair TREND SELECTION NYC…with key facts and statements.
BUT if you would like to get the complete season 2012 overview : order the cd rom with the detailed forecast, including pantone colour numbers, at the BVLK head office….the trend text is in german..but the visuals speak a global language : )…………….
Es herrschen im wahrsten Sinne des Wortes stürmische Zeiten: Hurrikane, Naturkatastrophen und die Ohnmacht der Technologie regen die Menschen zum Nachdenken an.
Dazu kommen die täglichen Hiobsbotschaften aus den Finanzmärkten und die Verschiebung der globalen Kräfteverhältnisse. Die Antwort darauf lautet Erneuerung. Deswegen, so fasste BVLK-Trendexperte Martin Wuttke anlässlich des Fashion Forecast Trendvortrags auf der vergangenen ILM zusammen, könne man die Trends für Herbst/Winter 2012/13 unter dem Schlagwort 'Neustart' sehen.Die kommende Saison verlangt danach, eingefahrene Wege zu verlassen, das Bewährte zu verfeinern und neu zu interpretieren. "Eine Neudefinition unserer auf Lässigkeit ausgerichteten Stilwelten steht an", betonte Wuttke.
Die neue Herbst/Wintersaison 2012/13 wird bestimmt durch einen starken Neuanfang. Von dem Mut, neue Wege zu beschreiten, zeugen kräftige Farben, außergewöhnliche Materialkombinationen und die hochmoderne Interpretation der unterschiedlichsten Stilepochen. Minimalismus trifft auf maximale Formgebung.