SAVE THE DATE: Sonntag, 08. März 2020
. GALLERY SHOES DÜSSELDORF.
ModEurop – Fashion Forecast Sommer 2021.Ist es Zeit für den minimalistischen Kitten Mule? Oder die hybride Tieffußbett-Sandale?
15:30 Uhr, Referent: Martin Wuttke, Head of Vision nextguruNow
Auf der Gallery Shoes dreht sich alles um die neuen Kollektionen für Herbst/Winter 2020/21. ModEurop Trendexperte Martin Wuttke ist seiner Zeit voraus. Bei seinen Prognosen, die neben der Mode auch gesellschaftliche Bewegungen sowie Einflüsse der internationalen Kunst- und Musikszene berücksichtigen, hat er die Trends der nahen und weiteren Zukunft im Visier. Auf der Gallery Shoes wirft er einen Blick auf die Farben, Materialien und Looks der Saison Sommer 2021.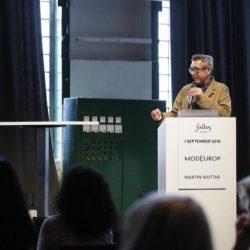 COPYRIGHT PICTURE : GALLERY SHOES: https://gallery-shoes.com