frankfurter rundschau _ 2011
frankfurter rundschau covers the ILM trend directions…sorry its all in german….but the pictures from the official ILM press shooting (robert lichtenberg)….are amazing in any "language"….have also a look at the first blue article_ pictures…….after the jump.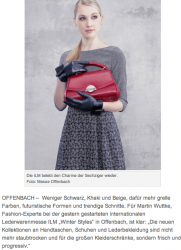 Weniger Schwarz, Khaki und Beige, dafür mehr grelle Farben, futuristische Formen und trendige Schnitte. Für Martin Wuttke, Fashion-Experte bei der gestern gestarteten internationalen Lederwarenmesse ILM "Winter Styles" in Offenbach, ist klar: "Die neuen Kollektionen an Handtaschen, Schuhen und Lederbekleidung sind nicht mehr staubtrocken und für die großen Kleiderschränke, sondern frisch und progressiv."……….. Fashion-Experte Wuttke sieht das pragmatischer: "Einkäufer müssen wachsende Preise irgendwann akzeptieren." Gerade bei Leder und Mode habe Qualität eben ihren Preis. Mit den auf der Messe vorgestellten Kollektionen, die sich unter anderem an Science-Fiction-Filmen und am Sixties-Look orientieren, will er den Markt wieder ankurbeln. Jede neue Modeshow bringe einen neuen Trend hervor − und das fördere den Absatz.
Max Biederbeck  for FRANKFUTER RUNDSCHAU  http://www.fr-online.de/wirtschaft/der-sixties-look-ist-wieder-chic/-/1472780/8268214/-/index.html
1st blue is reporting about the ILM fairs….more great bags and textiles _ catwalk looks….fredsbruder_maze_jean paul….clothing and bag selection by nextgurunow…….
http://www.1st-blue.com/business-club/nachrichten/markt/ilm-uebertrifft-vorjahresniveau/