After the Eckhaus Latta X-rated pixelated advertisment picts stormed instagram and other social media platforms: here is a higly interesting article from the I-D online mag.As Eckhaus Latta is one of the most influancial brands at the moment, it is maybe time to think about their approach to advertising.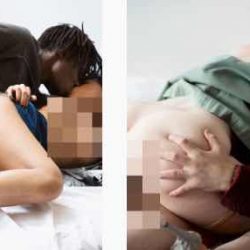 Here is the report from © Erica Euse.
"For spring/summer 17, Eckhaus Latta unveiled an X-rated campaign that featured real-life people having real-life sex. Eight couples of different races and sexual orientations were captured in the midst of acts from oral sex to handjobs. The models, mid-coitus, were styled in deconstructed knit tops and colorful patterned trousers from the brand. The images, photographed by Heji Shin, are pixelated to hide the most intimate details, but there is no question about what is happening in the photos. The provocative images took the old adage of "sex sells" to a whole new level."…….
To read the full article please use the link here: 
http://i-d.vice.com/en_gb/article/fashion-eckhaus-latta-adverts-sex-adverts
Details on Eckhaus Latta: 
https://www.instagram.com/eckhaus_latta/
© Text Erica Euse
© Photography Heji Shin for Eckhaus Latta