my favorite global fashion expert and city guide mastermind, the founder of superfuture, wayne berkowitz just told me that the BANGKOK superfuture city guide is just released. you can order the pdf-print version directely from the site / app version evebtually later on. since our first trip to tokyo in the early 90`s i can say: superfuture is a fantastic tool to get around in asia fashion hot spots…..(usa, australia and europe as well).
check out the BKK shop till you drop map here: http://superfuture.com/supershop/bangkok-superguide#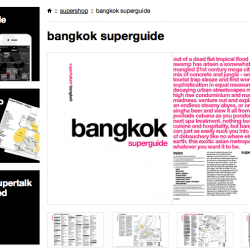 wayne shares our opinion that  bangkok  is mowing more in the direction of "wild tokyo"  of asia.  as always: we recommend companies because we are smashed of the quality and the insight…..!!!