our research trip to thailand and bkk was highly inspiring. great new contacts, fresh graphic and interior trends. from hill-tribe ethno and handcrafted hmong bags up to the latest bangkok fashion hot spots and malls. new inspirations and fresh styles from upcoming thai brands. bangkok is becoming more and more interesting as hong kong, tokyo or korean fashion brands open up own concept stores. second hand and vintage are key trends for the youngsters to make a hot impression beyond the global brands. interesting to see that the hype about the h&m maison margiela coop was much bigger than in europe. the people stood in long queues…..and huge bags were carried out of the h&m stores.especially the trends in the area of bags are highly interesting.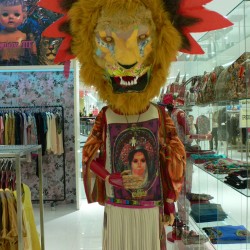 one of the fast growing brands is DA+PP the new young line from the label dapper.check out the neo geometric bag collection from ROUGE ROUGE : fantastic shapes, top workmanships, smart details. the collection of the antwerp thai collection CURATED by EK THONGPRASERT was one of our personal highlights:
http://www.facebook.com/CURATEDbyEK.
here are some impressions form our bkk research…..:
posted: 11_2012