style leaders vs. curiosity: "nextgurunow founders uta riechers wuttke and martin wuttke present an exhibition of photographs centered on the personal image of the "role models". street photographs taken from global fashion hot spots contrast the subject with a detail in their immediate environment."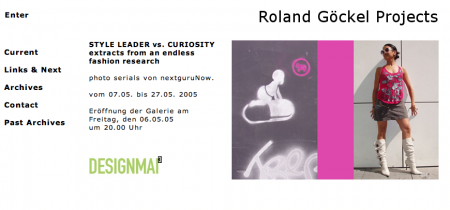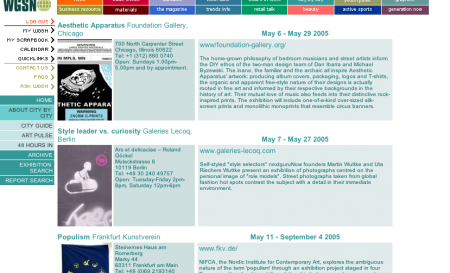 the exhibition took place tin the  roland göckel  gallery @ mulackstrasse berlin mitte in 05.
…und dies schreibt FASHIONUNITED über die ausstellung: Wenn Uta Riechers-Wuttke und Martin Wuttke auf Reisen sind, halten sie immer Ausschau nach Menschen, die irgendwie anders gekleidet sind, um diese dann zu fotografieren. So kommen sie den Trends der Straße auf die Spur, die sie für ihre Arbeit gut gebrauchen können. Das Ehepaar führt seit 1995 in Berlin die Agentur nextguruNow. Für Modefirmen machen sie Trend-Research, entwickeln Kollektion und entwerfen Grafik.
Jetzt stellen sie ihre Fotoreihe "Style Leader vs. Curiosity" in der Galerie Lecoq in Berlin-Mitte aus. Martin Wuttke und Uta Riechers-Wuttke verstehen sich in erster Linie als "style-selector", und nicht als Fotografen. Ihnen geht es um das individuelle Fashion-Statement der Protagonisten und der Wechselwirkung mit dem Umfeld. Deshalb verzichten sie auch bewusst auf ein zusätzliches Styling oder Lichtkonzept. Im Mittelpunkt ihrer Fotos sollen die Protagonisten stehen – ihre Selbstdarstellung und Inszenierung.
Die Bildelemente der Ausstellung entstanden zwischen 2003 und 2005 in Tokio, Shanghai, New York, Los Angeles, Barcelona, München und Paris. Die Ausstellung ist vom 7. bis 27.Mai in der Mulackstraße 6 in Berlin-Mitte zu sehen.